Live sports are back! Mike Malone wasted no time and set NBA twitter on fire, which it so desperately needed. The Nuggets came out with a lineup that has to have left Darryl Morey shaking in his boots.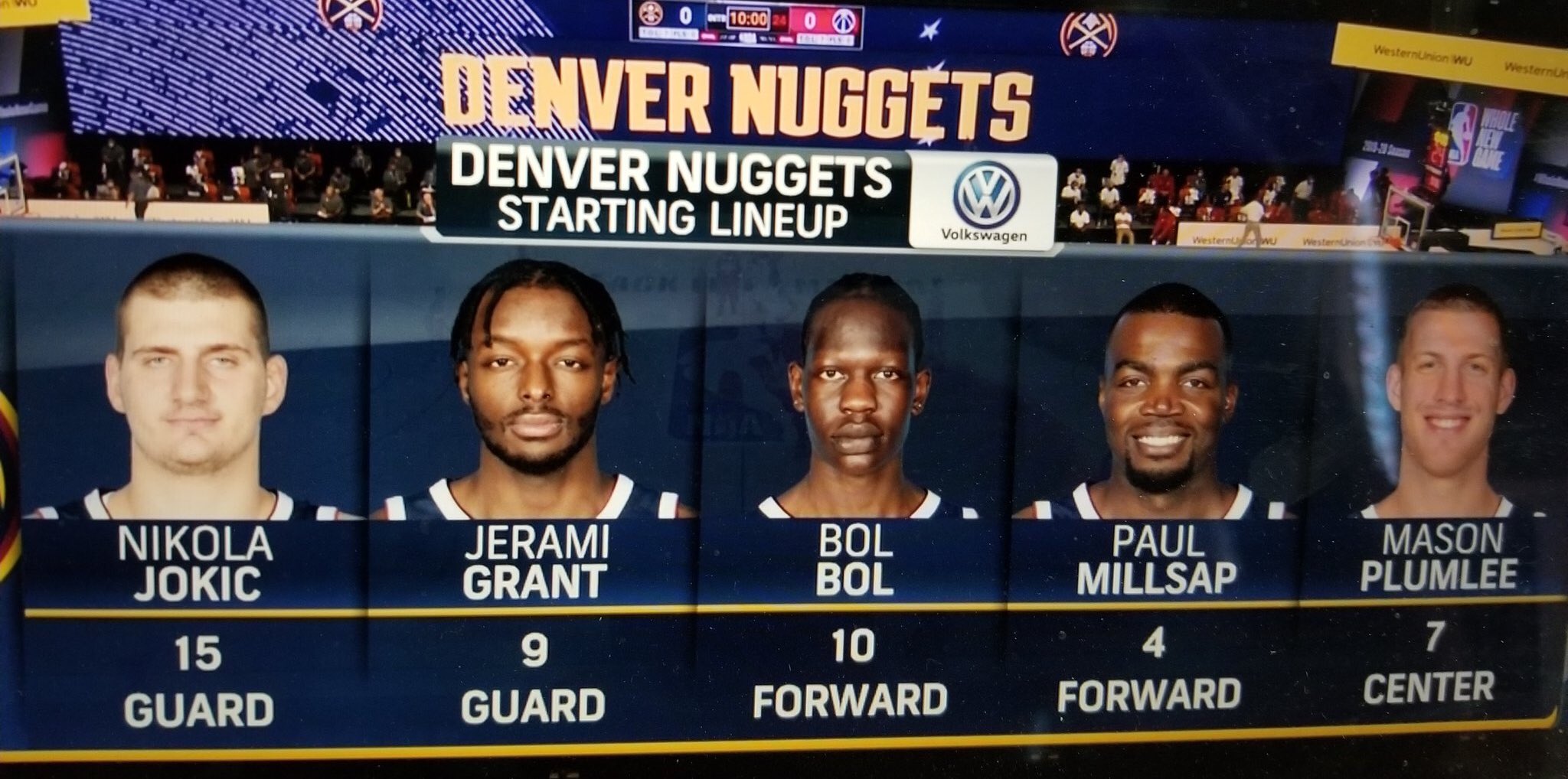 It will be interesting to see how this lineup would fare against a Houston Rockets lineup who is running 6'5 P.J. Tucker at center. Seriously, talk about a difference is play style. Granted, Jamal Murray was not playing in this scrimmage. It is serious news that the rookie, Bol Bol who was so highly thought of throughout his entire high school career and in his short stint at Oregon last year is making his NBA debut outside of the G League.
At one point Bol Bol was looked at as a potential top 5 pick all the way up until his injury in the beginning of his freshman year at Oregon. He fell to the 44th pick in the draft and it was painful to watch him slip and slip as he remained the only player in the draft room to not be taken. A prospect of his caliber with a chip on his shoulder that big? Watch out. Bol Bol was electric on Wednesday afternoon showing his signs of absurd potential he has showed his whole life. He is a 7'2 athletic freak playing small forward. He showed off his range in this one as well as his ability to protect the rim logging 2 threes and 6 blocks to go along side his 16 and 10. But more importantly he logged 32 minutes showing that the Nuggets are confident enough in what could be their secret weapon this coming playoffs to fully unleash him. I mean have you ever seen anyone play like this guy?
I mean this dude is straight out of a basketball fan's wet dream. He can shoot, dribble, block shots, and is maybe the most unique player in the league. He is literally a 7'2 sharpshooting rim protector who plays small forward. I cannot emphasize Bol Bol's raw potential enough. If he can stay healthy and improves like many think he will, the Nuggets may have just found Nikola Jokic the true second star they so desperately needed for the future.
Now do I think this somehow elevates the Nuggets to the level of the Lakers or Clippers, no. However, in a season that truly has a feel to it that anything can happen the Nuggets continue to add wild cards in Michael Porter Jr. and now Bol Bol who have some of the most raw potential in the whole league. Anything can happen in 2020 and Bol Bol certainly makes the NBA more exciting.
For any questions you may have about the playoffs in the bubble, go check out this pod where Brob breaks it down.